General Altimax One S Tyres Available in Ipswich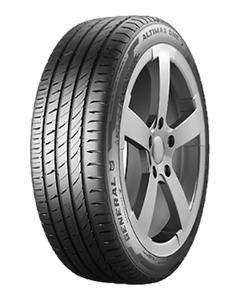 Altimax One S
General Tire's new Passenger Summer line that provides a reliable performance for everyday driving with outstanding grip in dry and wet conditions and significantly improved tread life.
ALTIMAX ONE S designed for higher performance sizes (with 4-groove pattern).
Technical Details
Adventurous on dry roads
This new tyre is designed in a whole new way - its connected shoulder blocks with added stiffness provide precise steering response, powerful grip and safe, reliable braking performance for everyday driving.
Reliable in wet condition
Optimized siping and a large number of gripping edges effectively displace water for responsive handling and enhanced control on wet and slippery roads.
Enjoy extra mileage
The new silica-enriched tread compound and the computer-optimized pattern design enable you to gather more miles thanks to minimized wear-causing distortion. Benefit from the extended tread life that leads to extra miles!
The Visual Alignment Indicator (VAI) signals incorrect wheel alignment
If the tread wears unevenly over the first 1,000 kilometers, the Visual Alignment Indicator technology (VAI) signals this to the user. This significantly extends the service life of the tyre.
The Replacement Tire Monitor (RTM) provides added safety
RTM technology tells the driver in good time when a tyre change is due, which increases safety.
Sorry, we currently do not have any tyres with the Altimax One S pattern in stock.
Contact us to see if we can order these in for you.